All technological artifacts are engaged in dialog with their human counterparts in this human-technology society.
The io_trio is a cyborg (hybrid humyn-technological) performance ensemble. On stage, the trio collectively improvise amplified (techno)science fictions, complete with fiddler, (mad) scientist, monster and guitarist. To catch the trio 'in the flesh,' check the performance diary since having an audience is an important requirement to the functioning of the io_trio and io enterprise in general.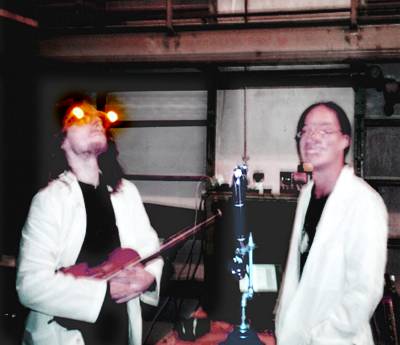 io_trio 0.0.1 beta
Performance organizations, promoters and venues can download the performance proposal (133KB Adobe PDF document), and contact us We are particularly interested in hearing from organizations in Europe (the io_trio is currently based in Europe).
performance description
Improvisations by humyn and non-humyn (technological) actors, with audience. The constituent parts of the io_trio 0.0.1 beta hybrid unit are Murray Campbell (violin), Han-earl Park (guitar) and io (itself).
The details of the performance format are flexible, and can be altered to suit the situation: 3 or more open improvisations of varying durations (e.g 3-8 minutes) each. We recommend having a theatrical 'prologue' involving the construction of io on stage by the performers; trust us, the assembly is part of the fun. Total duration of the performance may be between 20 minutes to two sets of 30 minutes each.
technical requirements
A fully functional audience, nitrogen-oxygen atmosphere, electrical power (230V AC), and a 10 minute sound check. We prefer that the venue provide a 100-150W per channel, stereo, audio power amplifier for use by io. If a suitable amplifier is not available, we can provide one—contact us for details.
musical actors' biographies
Murray Campbell: The earth is round and somewhat like an egg.
Han-earl Park has been using the same bio for the last four and a half years.
The I in io's name is pronounced ee and not eye.